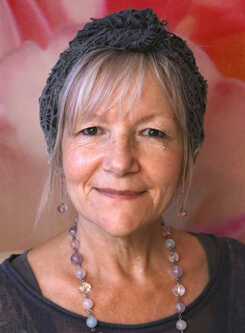 Sandy Humby is an Energy Alchemist with a lifetime's immersion in the true and authentic re-empowerment of the Sacred Feminine expression. To help bring inner Soul alignment and the Art of Beauty, Balance and Inner Peace back to the Heart of our lives and Homes… Truly coming home to Self.
She is an experienced Pranic Healer, Pranic Psychotherapist, Pranic Feng Shui practitioner, House Whisperess, Dowser, Interior Decorator and the author and creator of Rose Alchemy: Rose Oracle for the Heart and the Rose Alchemy holistic healing and personal development program…
Sandy brings over 25 years of study and experience within the fields of Metaphysics and Vibrational medicine to her work plus a personal fascination with Sacred Geometry and the more Mystical and Esoteric aspects of the Soul's path. She is passionate about the healing qualities of her work with the Rose and the pure transformational power of LOVE.
A natural 'sensitive' Sandy's journey has enabled study with many amazing teachers along her path. She has shared her passion on many radio interviews and publications worldwide and on Channel 4 TV in the UK.
Sandy also co-created The Art of House Whispering with Christian Kyriacou and was consultant to the team in the development of the planned TV series. She has completed hundreds of on site House Whispering consultations over the past 11 years giving her an unparalleled insight into the energy matrix that we call home.
Some of the places she has presented classes and seminars are:
The Salus Group at The United Nations, New York.
The International Feng Shui conference in Budapest
The British Society of Dowsers Conference, UK
One World Festival in Bath and Kent UK
The Open Centre, NY
The Meta Centre, NY
The Theosophical Society, NY
Namaste Bookstore, NY
Wainwright House, Rye New York
The Chalice Well, Glastonbury UK…
And for 2016 is a speaker at the American Society of Dowsers Convention in Saratoga Springs NY
Based in the UK on the edge of the beautiful New Forest in the South of England, Sandy currently shares her work through personal consultation work with clients worldwide and offers seminars, retreats and classes in the UK, Europe, Scandinavia and USA.