Sam Tso, Navajo Medicine Man
All of Mother Earth is sacred.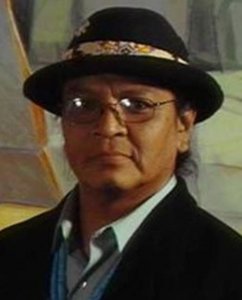 Sam Tso am a Native American and member of the Navajo Tribe. He was raised by his elders in an ancestral, remote area of Dinetah (Navajo Nation), Arizona. He grew up with the medicine people in his family and learned their ways by living their ways. While growing up he acquired many rare oral teachings and stories. This made him the keeper of his family history.
Today, Sam shares his knowledge of his Navajo(DINEH) culture and spirituality, which differs from other Native traditions. Sam and his wife Lisa Tso, an accomplished healer, have created Butterfly Mesa, a holistic service retreat, in their Arizona homeland to offer native and traditional teachings including fire ceremony, ceremonial sweat lodge, earth lodge, vision walk, sacred geography healing with journeys to the vortex's. Sam is a practioner of Native healing using one or more various techniques to realign. He also make use of cedar and tobacco/pipe ceremony when the need arises. 928-606-4537
Sam brings his knowledge to the Conscious Design Institute
He reconnects students to the ancient wisdom and teachings that honor and connect us back to nature.
He travels east to New Jersey several times a year to provide fire circles, classes, and private sessions.
Sam presents a teaching circle for the space clearing certification training and shares techniques to cleanse space, practice protection and energy maintenance, and develop skills.
http://www.butterflymesa.com
https://www.facebook.com/butterflymesa
Facebook: https://www.facebook.com/samtso.medicineman?fref=ts